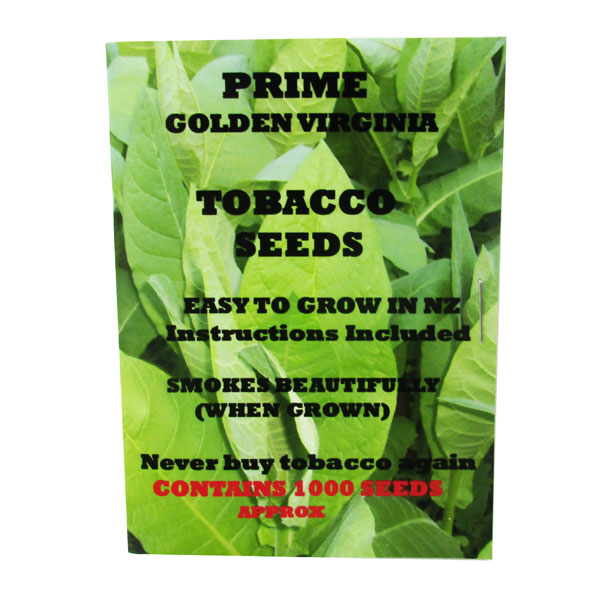 Prime Virginia Tobacco seeds. Tantalisingly easy to grow and prepare, it offers huge financial savings to smokers. No wonder it's flying off the shelves! Ideal for NZ conditions, the seeds we sell are harvested fresh each year from a NZ grower. Tobacco plants grow like wildfire and produce heavy yields. Literally, a few plants in the garden will provide enough tobacco to last a smoker all year. This pack contains approx 1000 seeds along with instructions to get you going.
?IF>
Will grow on almost any soil type, loves heat, rain and will even stand up to frost. Continues growing through NZ winters and virtually pest resistant. If you can grow weeds, you can grow tobacco.
It is legal to buy and sell tobacco seeds. It is legal to grow and smoke your own tobacco.
It is ILLEGAL to sell or distribute home grown tobacco as a finished product.
You can view the instructions from this pack here (instructions will open in a new window).
FAQ
Q. My seeds won't germinate. Why not?
A. Normally, a shortcut in the germination process is to blame. Either not keeping the growing medium moist at all times or using a harsh watering method (a fine puff spray must be used). When raising from seed, tobacco is not very tolerant to wind, overwatering, underwatering, too much sun etc so ensure they are kept in a warm, semi shaded location and keep the mix moist, topping up daily.
View your shopping basket or browse other items.
Other products you might be interested in